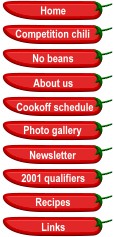 Recipes
Margarita Steaks
¼ cup tequila
2 Tbsp. Sugar
1 Tbsp chopped fresh cilantro
1 tsp. lime peel
½ tsp. salt
2 Tbsp. Lime juice
2 jalapeno chiles, chopped & seeded
2 (12oz.) T-bone steaks
Grill directions: In a glass baking dish, combine all ingredients except steaks; mix well.
Place steaks in mixture, turning to coat both sides.
Cover and refrigerate for at least hours to marinate, turning steaks once.
When ready, remove steaks from the marinade and grill, brushing occasionally with remaining marinade.

Pepperdean Beans
1. Saute until translucent
red onion
2 tsp. minced garlic
2. Add:
1 Tbsp. salt
1 Tbsp. cilantro
1/2 - 1 pound diced ham
1 tsp. beef crystals
1 pound dried baby lima beans
water to cover
3. bring to a boil, then reduce heat and simmer for approximately 1 1/2 hours, until beans are tender
4. just before serving, add 1 bunch fresh parsley

Hot & Spicy Chicken
Ingredients:
2 cups uncooked quick cooking rice
2 (10 oz) cans Rotel diced tomatoes and green chiles, undrained
1 (11 oz) can Cheddar Cheese soup, undiluted
1 sm. onion, chopped
1 tsp. dried basil
1/2 tsp. salt
1/8 tsp. pepper
2 lbs. skinned chicken leg & thighs
Combine first 7 ingredients; pour into a lightly greased 11 x 7 inch baking dish. Arrange chiken over rice mixture; cover with foil.
Bake@ 350 degrees for 20 minutes; remove foil, bake for an addiitonal 25 minutes or until chilcken is done.

Vegetarian Chili
by Jonathan Levine

1 lb white beans
1 lb black beans
1 lb kidney beans
1/2 lb lentils
6-8 carrots, cut into rounds
6-7 green peppers chopped
3/4 cup bulgur
1/2 cup wheat berries
2-3 laarge onions chopped
6 cloves garlic minced
Lots of liquid (beef or chicken booth, tomato juice, water, tomato sauce)
2-3 cups chili powder*
2 T whole cumin seeds

1. Soak beans over night in water
2. Bring beans to boil and simmer for one hour
3. Cook wheat berries as you would rice.
4. Heat 2 cups tomato juice. When just starting to boil remove from heat and
stir in bulgur. Let stand for 15-20 minutes
5. Add vegetables, wheat berries and bulgur to beans. Add liquid as
necessary. (Will absorb a LOT of liquid) Add chili powder, and salt and
pepper to taste. If too mild add cayenne pepper to taste
6. Toast whole cumin seeds on top of stove in a dry pan. Stir continually
When nice and toasted, but not burnt, remove from heat and cool. Grind in a
spice grinder or mill and add powder to chili. Will produce a nice smokey
flavor.
7. Cook for 3 hours. Stir frequently to prevent burning. Add more liquid if
needed.
8. Can use other vegetables as the spirit moves you.

* for best results use Reno Red chili mix. Available from Stewart Chili Co.
P.O. Box 574, San Carlos, CA 94070. $7.00 for a large plastic container.